Merchandise
Not only do we have a great range of food for all stages of the life styles of your pets, we also have a wide range of merchandise and fun things for your furry family members.
And if we don't have it in stock, just ask and we are more than happy to try and source it for you. 
Food
At the Animal Doctors we believe that a good well balanced diet does wonders to maintain a longer, happier and healthier life for your pet. We stock the best in Hills and Delicate Care food, so you have the peace of mind that they are getting the best there is to offer. 
Not only do they offer food for all life stages of your pets life, Hills also has a great range of prescription foods targeted at specific ailments that may arise as your pet ages.
Check in store and on our social media pages for any Promos or specials.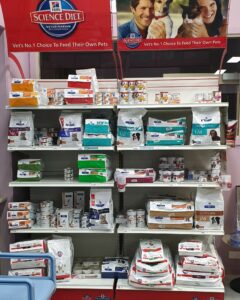 Dogs
Our range of collars, leads and harnesses come in all colours and sizes and we are more than happy to help you with sizing. 
We now stock Thunder Shirts™ for Dogs. These are designed to help your dog with stress and anxiety – Just like a hug.  If you would like more information on Thunder Shirts, just give us a call at the clinic. 
Along with a range of daily Dental Treats (Greenies and Oravet), we also have a great range of flea, worming and shampoos to help keep your pet healthy inside and out.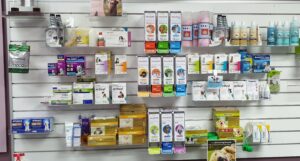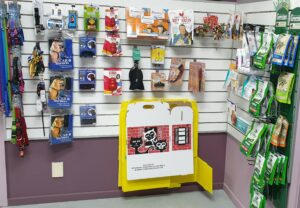 Cats
Collars, toys, bells, litter trays – They are just some of the fun items we stock to keep your purring kitty happy.  
We also have wide range of flea and worming products. If you would like any information of what the best protocol is best suited for you pets, just give us a call and we are more than happy to help and go through the options with you.