Clinic Cat
Castro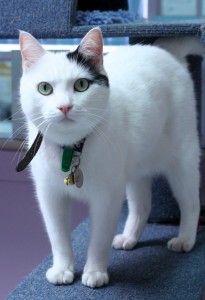 This smoochy lazy boy was delivered to us in the middle of a staff meeting by the Cardinia Shire Council. He was a 6 week old kitten who had just been hit by a car and had sustained a fractured pelvis and minor cuts and bruises. In a young kitten this injury requires lots of love and care, with eight weeks of confinement being necessary for recovery.
After his eight weeks of recovery, it was clear Castro was not going to leave The Animal Doctors @ Pakenham and he too became a permanent resident at the clinic.
Castro is always trying to be very helpful in the clinic, whether he is out the front chewing on your pen or sitting on the washing out the back whilst you try and fold it. He also enjoys terrorising people while they try to eat and getting outside any chance he can, only to return covered in dirt (although due to his track record with cars we do not encourage these outside visits).
He is a big talker who really does believe he is a human and gets very frustrated if we do not understand what he is trying to tell you. He shows his affection to us by head-butting, this at times can be loving, however he can be quite determined to receive all of our attention
Castro not only enjoys smooching staff members, but he loves receive love from EVERY CLIENT that enters the clinic, one way or another!