Vets
Dr David Clemence BVSC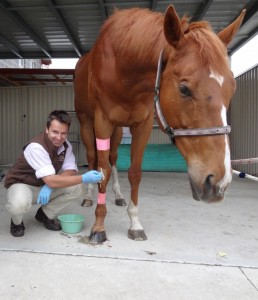 Dr  David Clemence has been in Equine Veterinary practice in the Pakenham area for the past twenty two years. He graduated from the University of Melbourne in 1988, immediately taking up a position as associate veterinarian with the well-respected Equine Vet Dr John Brown of Bendigo Animal Hospital. After spending two years at the Epsom Vet Centre in racehorse practice, he purchased the Pakenham Equine Centre. Following further postgraduate education in Equine Medicine and Equine Dentistry, his particular interests are in Equine Health Management, particularly in relation to care of the geriatric horse. In 2005, he purchased the Cardinia Veterinary Centre (now The Animal Doctors @ Pakenham).
David has a long and enduring interest in horses that began in his childhood. One of his sisters took on the task of teaching him to ride when he was just young. Despite the fact that she only ever let him ride in a pony pad, David's love of horses was borne and they have remained a fundamental part of his life ever since.
He is married to Penny who used to spend her time competing event horses across Australia and Europe but now works in strategic communications for a not-for-profit organisation. They have two gorgeous children, Poppy and Henry, who keep them very busy. In all his spare time (ha ha), David likes to fly airplanes upside down.
The members of the family who don't tell David what to do are Butters his dog,  Fred the cat and his horses.
Dr Kerry Bail BSc, BVSc. (Hons), MANZCVS (Small animal medicine)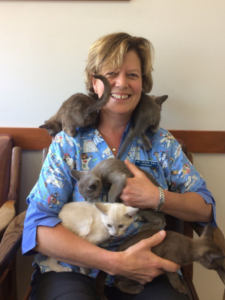 Dr Kerry Bail graduated from The University of Melbourne in 1992. She owned her own practice in Endeavour Hills for 17 years and has worked locally for another 3 years prior to joining our practice, steering the helm at Animal Doctors @ Officer.
Dr Kerry has memberships in Small Animal Medicine with the Australian and New Zealand College of Veterinary Scientists. She is an experienced surgeon and also has a special interest in the application of laser therapy and acupuncture.
She loves all aspects of small animal practice, guiding your pet through all their life stages and especially helping to care for our 4 legged senior citizens.
Dr Kerry lives locally with her 2 rescue cats, 1 kelpie, 3 horses and 4 chickens.
She is a member of local adult horse riding clubs and she is learning French in her spare time.
Dr Ruth Woolnough BSc DVM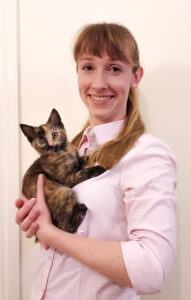 Dr Ruth competed her Bachelor of Science degree in 2012 then graduated from the Doctor of Veterinary Medicine at University of Melbourne in 2015. After working at Berwick Veterinary Hospital two and a half years, Ruth joined our team in 2018.
Ruth lives locally and shares her home with her husband Aaron, their bull terrier cross Finn, cat Cinnamon (pictured) and multiple fish. If her husband could be talked into it, she would probably have many more cats though, as she is something of a crazy cat lady! For much of the year however, Ruth's home is quite exciting as it turns into a mini zoo when the school's turtles, frogs and stick insects come to stay for the holidays!
Ruth is passionate about all aspects of small animal medicine, dental care for pets and cancer care for pets including chemotherapy.
Ruth is a keen gardener, loves to spend time with family and friends, go for walks, read and  go fishing with her husband. (He fishes whilst she reads – any fish brought home must be deep fried and battered!)
Dr Malishka Fernando BSc BVSc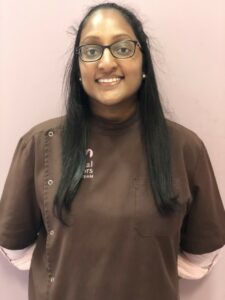 Malishka joined our clinic in August 2020. From a young age, her passion for animals was clear, from chasing chickens on her grandmas property as a little toddler, to cuddling lambs at petting zoos, and raising the family dog.
She graduated from the University of Queensland in 2017, and gained experience at a clinic in Cranbourne prior to joining the Animal Doctors team.
She has a keen interest in many aspects of canine and feline medicine, including dermatology, endocrine problems and behaviour.
Her hobbies include sampling the best brunch Melbourne has to offer, spending time with friends and family, and providing random quotes from her favourite tv shows!